RUSTIC, AUTHENTIC, HISTORIC LOG CABINS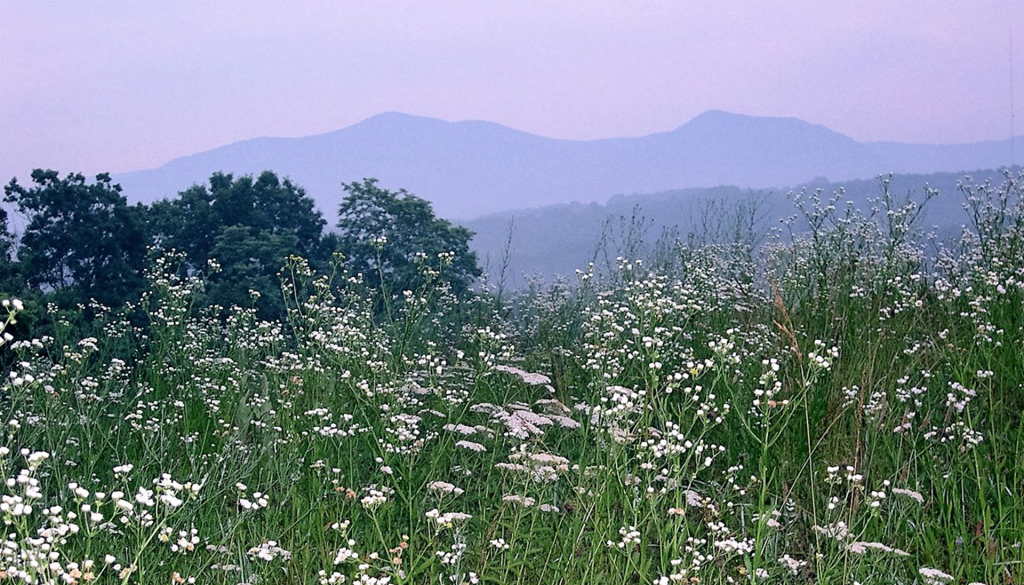 Ever dream about 'a cabin in the woods'? Do you remember what a very dark, star-filled sky looks like? Remember your childhood delight seeing fireflies flicker on summer nights? Well, here is your opportunity! Bring that book you have been waiting to read. Leave the busy-ness of the usual workday and its commute traffic. Reconnect with your-self, your love, deepen the bond with a child or friends. Most importantly, re-connect with the natural environment that is so very vital and in resonance with the core of your being.
Our hand-hewn log cabins are situated on 250 acres of rolling Shenandoah farmland and nature preserve. From many places on the farm you will feast on the gorgeous views. From the highest hilltop we call Mt Grace you will drink in an awe-inspiring 360 degree view of both the Alleghenies & the Blue Ridge Mountains spanning at least 7 counties.
Each cabin was discovered in various parts of Virginia & West Virginia, dismantled, then reassembled on the farm with loving care and attention over a period of 30 years. The cabins, dating from c1775 to early 1900's, are unique with a variety of add-ons, ie: sitting porches, back decks, upstairs loft bedrooms, heating/ac and perhaps a screened-in porch.
Homesteaders's Cabin
Homesteader's Cabin sits at the top of the main entry road, several hundred yards from another cabin. Three small cabins are creatively combined to make one terrific cabin. The center cabin was actually found on the 'back forty' and brought to this current location. For 14 years this cabin was home to a Washington & Lee University professor who was/is a well known and respected nature writer. It has 2 queen bedrooms, 1 bathroom, the most modern and largest kitchen of all the cabins, a wood stove, front sitting porch and back deck with gas grill. And, of course, Adirondack chairs and a picnic table with umbrella. This cabin is one of 3 cabins that are child friendly and dog suitable.
DeHart Cabin
DeHart c.1860 is situated at the end of an internal farm road and backs onto woods on two sides. An acre of mown meadow is in front and a hayfield to its side. All is very quiet here. The closest cabin is approximately 250 yards ahead of this cabin. The private deck off the back main bedroom offers complete privacy... a lovely place to relax, read, grill dinner or nap. DeHart has 2.5 bedrooms with 3 beds - a queen, double and single, 1 newly remodeled bathroom with antique clawfoot tub, a kitchenette and a wood burning fireplace. This cabin is one of 3 cabins that are child friendly and dog suitable.
Highlands Cabin
Highlands Cabin was the first cabin brought onto the farm over 40 years ago. This cabin sits off its own private entry road. So, if it's quiet & tranquility you desire, you have found it here! Woods surround this cabin perched atop a knoll. Dating from 1775, it has had quite a few features added to it: large loft queen bedroom, large 1st floor bathroom with antique pedestal tub, kitchenette, front sitting porch with bent twig furniture and a screened-in back porch. Of course, there is a wood burning fireplace, gas grill & picnic table. You won't want to leave. This cabin is one of 3 cabins that are child friendly and dog suitable.
Writer's Retreat
Writer's Retreat is the sweetest cabin, more spacious that it would seem. The feeling you will experience is that of a comfortable nest or cozy hideaway. This is the place to 'recluse' from the fast pace of your life. It is simple and charming with everything you need. One queen bedroom upstairs, nice kitchen, modernized bathroom with antique clawfoot tub on 1st floor, living room with leather furniture, washer/dryer, front sitting porch & side deck with gas grill. Add the Adirondack chairs, picnic table with umbrella and you are set for a few days or an extended stay. This cabin is not suitable for either children or pets.
Stonecutter's Cabin
Stonecutter's Cabin was remodeled as the owner's personal retreat place. This cabin is totally unlike the others in size and amenities. The cabin sits in its own private glen and the quiet here is palpable. The great room addition is surrounded by glass with french doors opening to a private side deck, high wood ceiling, 2 stone fireplaces, a grand piano, modern kitchen, 1 queen bedroom upstairs, 1 large bathroom on 1st floor and dining area with antique farm table. There are 2 verandas with Adirondack chairs, a gas grill & firewood. This cabin is not suitable for either children or pets.
There is MAGIC in the air here on this farmland. It feeds your soul and wraps you in peace. Experience its gifts and you will return again and again! Unforgettable. We welcome you...