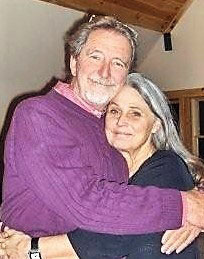 Barney Brown & Antonia Albano, husband and wife duo, purchased this 250 acres in 2003 and 2004. Both Antonia and Barney have had life long interests in the arts, music, have been lovers of the natural environment and experience life as an integrated whole. They opened and co-operated a holistic center just north of San Francisco renting to 10-14 health care practitioners while calling that home base for their private practices. This California holistic approach to life certainly lent itself to what they have created here in Virginia.
Barney brings a lifetime of entrepreneurial pursuits, love of meditative practice, philosophy, physics and spiritually centered life to this magical retreat center. With a background in real estate, farming, financial consulting and spiritual practice, this land and vision were a perfect match. His expertise is invaluable. Even when Barney is immersed in his painting studio on the farm or his vegetable garden, the 'camel tetherer' keeps everyone together and headed the same direction. No mean feat with a team of independent persons!
Antonia brings her enthusiasm, love of music, the natural environment, creative expression, decades of design related business & national management background to this endeavor. She designs all advertising layout and copy for the website and for this property. Antonia is the creator of the State of Grace Pulsation Center modern day labyrinth, the family of sculptures called the Geometries of Love, the annual Celebration of Love event and the multi-tiered meditation garden, Jardin d'OrPhi.