MEETINGS & WORKSHOPS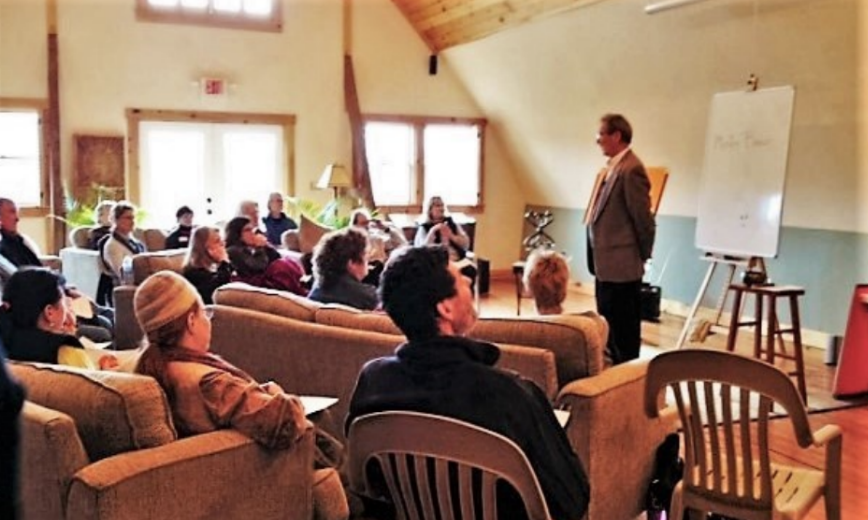 Picture your meeting in a barn structure that has been a part of the rolling farmland and mountain-scape of Rockbridge County for over 100 years. Picture your workshop in a large room with warm wood tones and a custom stone fireplace. Picture yourself inspired in a unique room with beautiful slanted ceilings that once was a hayloft but now reborn as a meeting space.
The Heartstone Lodge offers not only two exceptional meeting rooms indoors, but also numerous outdoor spaces for break-out sessions and relaxing.

Rustic Oak Room
*1800 sq ft meeting space
* double sided stone fireplace
* grand piano
* abundant natural light
* comfortable living room setting
*accommodates up to 90 depending on set-up


Hayloft Room
*1200 sq ft meeting space
* cathedral ceiling
* abundant natural light
* comfortable living room style sofas
*accommodates up 70 depending on set-up

Equipment and Services
* 2 large gathering rooms
* LCD projector
* CD/DVD player
* 6 x 8 ft projector screen
* 20 6ft tables + 100 padded chairs
* quality A/V equipment
*dry erase boards
*flip chart/paper/easels
* yoga mats, zabatons, zafus
*coffee/tea service available upon request
* professional catering kitchen
* outdoor spaces for break-outs and relaxing
* 65ft grapevine covered pergola
* meditation garden
* fire pit and picnic tables
* walks on property and nearby river trail
* modern day mountaintop labyrinth with amazing panoramas
Pricing
1-4 hours @ $60/hour + tax
5+ hours @ $50/hour + tax
* Use of kitchen has an additional charge
NOTE: As a Retreat Center we rent 'space'. Renters are responsible for all set-up and clean-up unless otherwise contracted beforehand. This would be an additional charge. Please contact us before your retreat if you need information or help with our audio/visual equipment. Also, a list of caterers is available should you wish.
Potential Uses