The Creamery Cottage Studio
When we first purchased this property, one look around might be enough to run away. Barney wanted an artist's studio and this was a perfect size project to entertain, especially since the other projects were bit daunting. When it was completed it was so adorable that people began asking to live in it.
Since we were just beginning the remodel of the dairy barn, Barney reluctantly released his artist's studio to what would become a steady stream of people over a period of three years staying for several months to a year each, most of the time being put to work for a very economical rate. Amazing healing stories and lives changed... This sweet cottage is free standing and sits with the remodeled dairy barn and the private "hideaway" only for guests of the Creamery behind it, a large courtyard to the east, a smaller courtyard in front and a small garden to the west.
The Creamery is one large open room with a queen bed, a sitting area with a queen sleeper sofa, linens, extra blanket, 4 sleeping pillows; love seat; full bathroom with large shower, plush towels, family style toiletries and hair dryer; a very well laid out full kitchen fully outfitted: pots/pans, dishes, glassware, silverware, basic condiments, refrigerator, microwave; and dining table for two adjacent to kitchen. Coffee pot/'starter' coffee, teas. The crowning glory of this studio is the beautiful unique brick floor. Add the front sitting deck and the recently completed "Creamery Hideaway" with it's covered pergola, deck, sitting bench and gas grill for your own private space, especially if you are here during an event at the adjacent event facility. Original art. Possible internet. Good cell reception.
Ideal for 2 adults. No pets.
Rate: $135/night + tax, single/double occupancy, $20/person over 2 people
2 night minimum (3 night minimum on holidays & college weekends)
** As with our retreat facility and all accommodations, these studios are "self-catering". This means our guests are asked to neaten the space: wash any dishes used & return them to their original places; return furniture, if moved; turn off any outdoor lights when retiring for the evening... to leave the space as they found it: clean, with used linens and towels gathered together.
Parking is approximately 100 feet away from studios. Bring a good flashlight and comfy shoes.
The property has feral cats, a domestic cat, lots of the usual country critters and some cows. Our guests need to be comfortable with the dark and the quiet of a country setting. On many nights the Milky Way can be seen and more stars that you may have seen in a very long time. Fireflies flicker and hover over the ground and in the trees on warm summer nights.
If there is no event in The Lodge, our studio guests have use of the 65 ft vine covered pergola with a small fish pond and water fountain, 3 tiered meditation garden, The Cozy (small pergola), fire-pit (with burnable wood), a chiminea (with burnable wood), the Stone Garden and large picnic tables.
This is not your hotel experience :)
Come enjoy this beautiful unique setting and you may never again choose a hotel!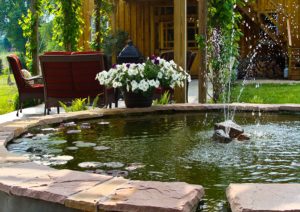 ...the magic lingers longer after returning home
Heartstone Lodge & Retreat Center
South River Highlands Country Retreat
Buena Vista, Virginia
540.463.2593
check availability & reservations