About this Listing:
$160/night single/double occupancy
Extra people: $20/person over 2
Accommodates: 2-4
Sleeping & Living Arrangement:
1 Queen bedroom on main floor
1 Queen bedroom in Loft
Child friendly; dog suitable
Kitchen
Bathroom with tub/shower
The Property: Cabin
Check In: Anytime after 3pm
Check out: 11am
2 night minimum stay*
*3 night minimum on holidays and special college weekends
Pricing Discounts
3-6 nights: 10%
7 days – 3 weeks: 24%
Monthly discount: 40%
Cancellation Policy:
14 days prior without penalty
HOUSE RULES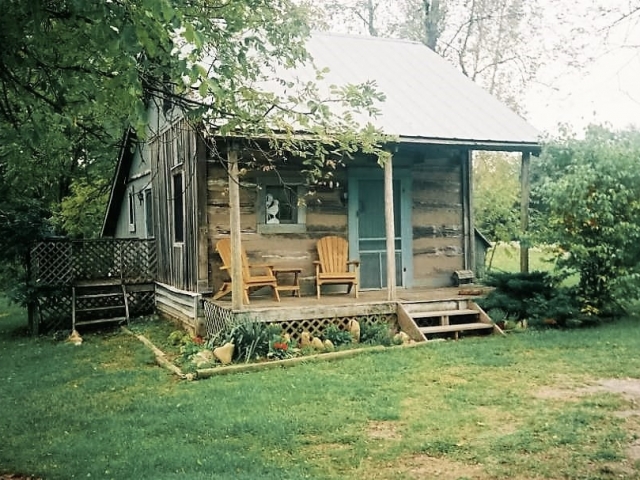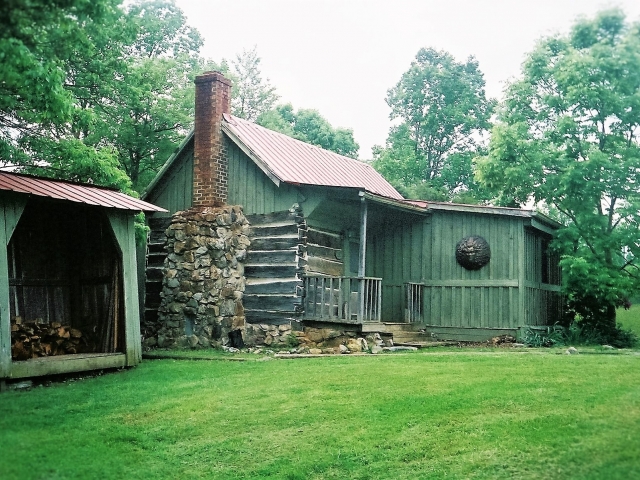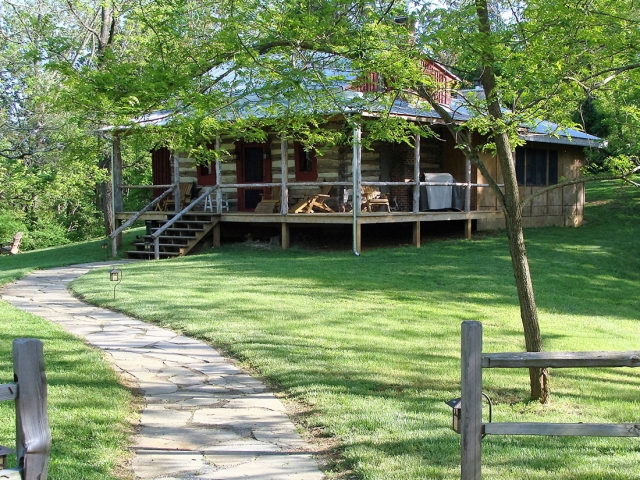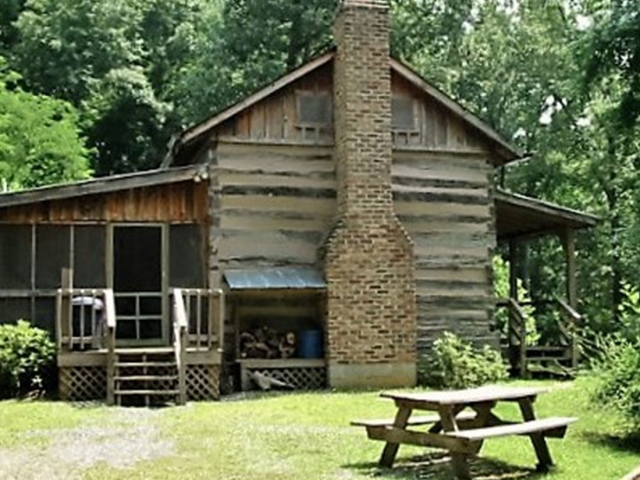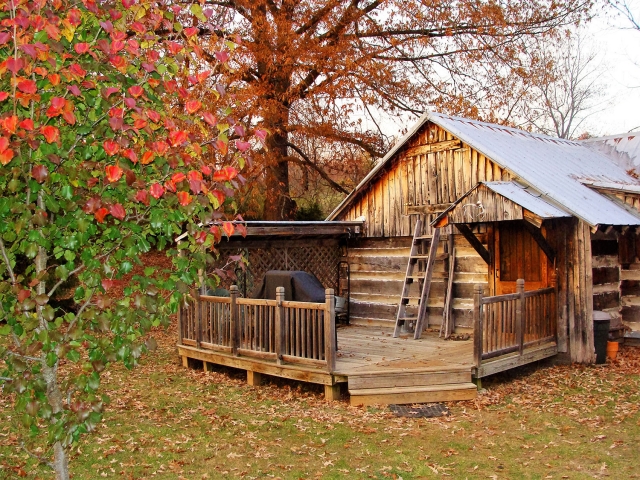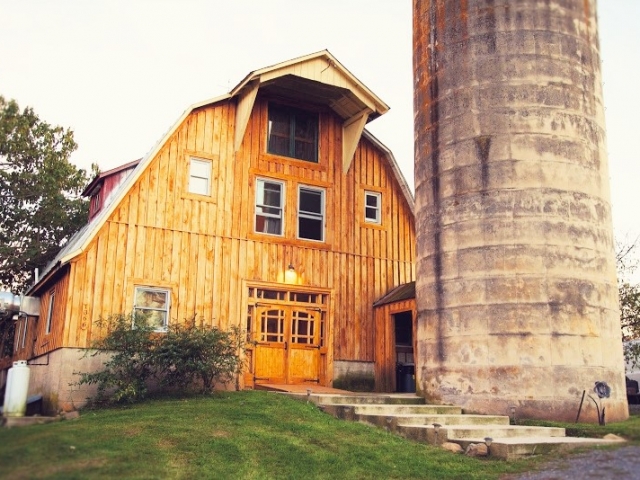 Homesteader's Cabin
Situated at the entry to a beautiful 250 acre farm in the Shenandoah Valley, only 4 miles from charming Lexington, 3 colleges, excellent restaurants and local gift shops, sits a rustic, historic log cabin made up of 3 little cabins. This cabin, created from chestnut logs, was home for 14 yrs to a nationally known nature writer & professor. Homesteader's cabin sits above the confluence of 2 rivers, overlooks one of the 4 hay fields and is shaded by a centuries old Spanish Oak tree.
Only 4 miles from downtown Lexington, Washington & Lee University & Virginia Military Institute, this sweet cabin is the perfect place to reconnect with yourself, loved ones & the natural environment. Spa robes, family style toiletries, very comfortable beds with quality bedding await you.
DESCRIPTION
This 250 acre country retreat has 5 authentic, rustic, historic log cabins that have been brought onto the property over a 30 year period and situated with plenty of room between them so that, if indeed you can see another cabin, it is far enough away to almost be unnoticeable. This land is beautiful, healing and a step back into a quieter way of life. Much love and care has gone into each cabin, it's décor and the bedding offering our guests the best stay possible. We have kept the rustic feeling as much as possible so its history is not lost. We hope that you will appreciate the balance of old and new.
Twice a year we harvest each of the four hay fields. Watching the harvest and the huge circular bales of hay left on the fields warms the heart. The farm also has 110 acres of hardwoods. We have planted approximately 1000 trees since 2003 and they are growing tall.
The highest hilltop, named Mount Grace, has almost a one acre modern day labyrinth available for our guests and retreat groups. The ceremonial flags of saffron and crimson fly high on special occasions. For those interested there is a diagram of the walk directions and written understandings of each of the Geometries of Love ...sacred technologies for the new millennium sculptures as Antonia understands the messengers.

INTERACTION WITH GUESTS

This cabin is part of a 'self catering' retreat. We have no interaction with guests unless requested. We honor your desire for quiet & solitude.
You may see or hear the mower on some days or see general maintenance being handled. If you are lucky to be here when the hayfields are being harvested you are in for a treat! Your time here is private. We are always available should there be a need.

THE LAY OF THE LAND

We love the beautiful rolling farmlands of this county. The vistas are stunning, the mountain ranges soft & inviting. The farm is close to many places of interest both in town & the outdoors. Walk the land & marvel at the beauty everywhere you look. The views from the farm hilltops are stunning 360 panoramas. And, don't forget the beautiful modern day labyrinth called the State of Grace on Mount Grace. You will want to watch the sunrise & the sun set from here. Awe inspiring!

GETTING AROUND

There is no public transportation. A car is a must here. In the case of snowy weather you will want to be driving a car that is fine on a slight grade of dirt & gravel. The farm roads are plowed if the snow is more than a few inches. The county plows the roads soon after heavy snowfalls though you will want to give us a call for updates. We rent all year & winter offers a special quiet that many love. A car really is a necessary unless, of course, someone delivers you & you do not need to leave the farm before being picked up.

AMENITIES
Even though we are a 'self-catering' retreat property we still have our Bed & Breakfast mindset so we supply much more than this type of business classification calls for. We want our guests to have everything reasonably possible already at the cabin so clothes, food and personal items are all that is needed.
kitchen ware: silverware, pots/pans, dishes, glasses *linens for each bed only * dish soap
towels *essentials: bath soap, hand soap, shampoo, conditioner
toilet paper * paper towels * hairdryer * hangers
2 robes * iron *TV (satellite) * dvd & cd library * wood stove + reasonable amount of burnable wood
baseboard heating * a/c window units *1-2 fans * laptop friendly workplace * free parking
child friendly * dog suitable * 24 hour check-in


OTHER THINGS TO NOTE

Guests need to be comfortable with the dark & the country. We like to say that "this is not your hotel experience!". One can often see the Milky Way without interference from city lights! We do our best to be good country neighbors and 'keep the country in the country' by asking that all outdoor lights be turned off at night. Bring a good flashlight and comfy shoes. The cabin is supplied with 'starter' coffee, teas, cocoa, condiments, dish soap, paper towels & toilet paper etc. If you need more than we provide you will find a grocery store only a few miles from the cabin.
This farm is a retreat space encouraging folks to 'unplug' & reconnect with themselves & the natural environment. We have no parties on this side of the farm & ask guests to keep music, loud noise indoors. Smoking is outdoors only & disposed of properly as to prevent fires. Maximum 2 cars, No ATVs
...ABSOLUTELY NO CAMPFIRES ANYWHERE... Thank you.
IMPORTANT: Please have a terrific time & come back soon!)